Why Opt for a Comprehensive Andaman tour package This Monsoon?
Do you know monsoon can be the best time to travel and explore the unexplored? Well, not just because of stunning, rain-drenched landscapes, but travelling in monsoon is great also because of cheap air fares. Wondering about travel destinations where you can enjoy the magical monsoon? Booking all-inclusive Andaman tour packages can be the key to a memorable vacation.
With its picturesque vistas, sun-kissed beaches and azure waters, the Andaman Islands are a picture-perfect haven for tourists. Come monsoon and the unparalleled scenic beauty and lush green vegetation comes alive, making these islands more magical. Whether you are planning a honeymoon tour, a family outing or a solo trip, the Andaman and Nicobar Islands are the perfect monsoon holiday destination. What makes it the ideal place for all is that the place has something for every tourist!
Here's why you must plan an Andaman trip during the rainy season.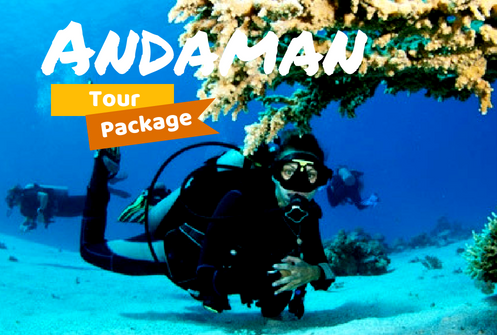 4 Compelling Reasons To Book Andaman Tour Package This Monsoon
Revisit India's Rich History At The Cellular Jail
Built in the year 1906, the Cellular Jail served as a colonial prison during the British rule. Also known as Kala Pani, the prison is drenched in political and colonial history. A visit to the Cellular Jail will help you get a glimpse of the claustrophobic prisons where distinguished Indian freedom fighters were once kept on exile. The Light and Sound show which takes place in the evenings narrates the Indian freedom struggle and is available in both English and Hindi.
Enjoy Long Walks On The Radhanagar Beach
As you approach the dreamy Radhanagar Beach, you will notice that all you can see is a hint of water and lush green towering trees all around. Once you get closer, the expanse of this beautiful beach will surely take your breath away. The rays of the sun bounce off the pure white, making it glitter just like sprinkled diamonds. With not much tourists around, you will have almost the entire beach to yourself!
Go Snorkelling At Bharatpur Beach
When opting for the best Andaman tour package, this is one thing which you just can't afford to miss. Though weather at beaches is mostly unpredictable, Andaman is one such place which guarantees a thrilling snorkelling with a storm approaching. If you are an adventure enthusiast, snorkelling at Bharatpur Beach can get your adrenaline rush pumping. What's more, the ability to bask in the evenings or get lost in the bright coral reefs makes Bharatpur beach a popular tourist attraction.
Take An Adventurous Drive On The Andaman Trunk Road
Although the Andaman Track Road remains as a restricted area for travellers, it's open for tourists travelling to the Limestone Alfred Caves situated in Diglipur. During the monsoon, the Limestone Alfred Caves take a completely new shape. To reach and experience the caves, you need to trek for almost an hour. Though it may seem to be difficult in the surface, you will feel that every step is worth once you reach the place.
Now that you are aware of these reasons, what are you still waiting for? Quickly book affordable Andaman tour packages and embark on an unforgettable trip!